¶ 1 Leave a comment on verse 1 0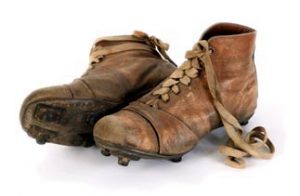 ¶ 2 Leave a comment on verse 2 0 My first pair of boots I'll have you know,
Were made of old leather, and cramped at the toe.
Ankle high with laces so long,
And a crinkled flap they called a tongue.
Studs worn down with lots of use,
The stitching in them coming loose.
Handed down from an uncle of mine,
He'd got some new one's, they'd served their time.
¶ 3 Leave a comment on verse 3 0 Standing proud in Stanley Park,
Before the gates closed, it was getting dark.
A tennis ball lying there on the grass.
My whistle blew, and I made my first pass.
Running like mad, I received the ball,
Kicked for goal, missed, and had a fall.
I played for ten minutes and beat everyone,
The game played by myself, the first one I'd won.
¶ 4 Leave a comment on verse 4 0 Home again, I brushed off the mud,
Cleaned underneath, around each stud.
Picking the grass from all the lace holes,
Getting them ready to score more goals.
Tomorrow I'll ask mum to get some Dubbin,
I'll work it in with lots of rubbin.
I'm a footballer now; just you wait and see,
We'll have to practice, them boots and me.
12