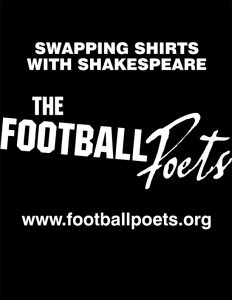 Welcome. You can register for free on the newly re-launched Football Poets website, enabling  you to post/publish your football poems. If you posted poems on the old site you can also re-claim all your previous poems into your own profile .These have all been re-formatted (!) and transferred from the old site. It's easy to do. Contact us if problems via the contact form and after that each time you just log in.
One main (self-policing) feature is that for an unlimited trial period, YOUR POEMS WILL BE PUBLISHED AUTOMATICALLY And you will no longer have to wait for them to edited onto the site. We will reserve the right to edit anything untoward and trust you will comply as you have in the past .Huge thanks to Christian Wach,  our new Site Administrator, who has built and created it all – and in the process saved all your poems from our antiquated and crumbling old home.  From its inception for Euro 2000 to now we are closing in on 16000 poems in 16 years! For anyone missing the old site, don't worry you can visit the Web Archive section at the British Library.  This site is your site with your poems, So more please!
"Poetry is writing with passion about something you feel passionate about." William Wordsworth.